Catharine wrote her first song in March of 2012. In March of 2013, Catharine was diagnosed with stage 3 breast cancer. A prolific writer of songs, Catharine is very thankful for all the encouragement, assistance, and love she has received in preparation for the making of this album.
After over a year of groundwork, her first album was formally released on December 18. The music is available to listen to and purchase on this site via Bandcamp. The physical CD is available for order on this site, and at the City Cafe in Hohenwald, TN. It can also be obtained from Catharine herself.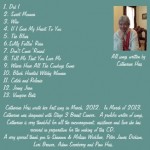 These are songs that were written between 2012 and 2014 at Serenity (Catharine's house). The CD consists of studio recordings produced by Shannon Wickline (keyboard player for Charlie Daniels). Vocalists are Catharine, Melissa Wickline, and Peter Dickson.